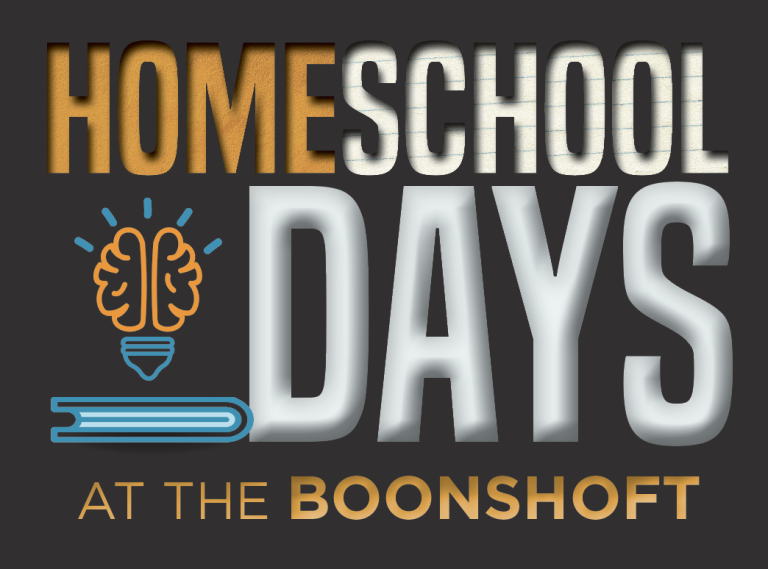 Join the experienced education staff at the Boonshoft Museum of Discovery for our 2023-2024 Homeschool Days!
October 11th | December 14th | February 20th | April 10th
PRE-REGISTRATION IS REQUIRED!
General Information – Please read this information carefully as some policies have changed. 
In October, December, February, and April we will be hosting STEM based programs that will cover content aligned with grade levels Kindergarten through 8th grade. Our themes for this year will include paleontology, astronomy, chemistry, and biology. Two different programs will be offered at different times on those days to align with content appropriate for a Kindergarten to 3rd grade understanding and 4th to 8th grade understanding.
One theme every other month with programs offered four (4) times a day for TWO (2) different age groups.
A self-led hands-on activity for PreK and younger will be available during each program. 
Registration and prepayment are MANDATORY in order to participate and secure a space in the programs this year. 
Program Times:
10:00-10:30am – K-3rd grade content (5-8 year olds).
11:00-11:30am – 4th-8th grade content (9-13 year olds).
1:00-1:30pm – K-3rd grade content (5-8 year olds).
2:00-2:30pm – 4th-8th grade program (9-13 year olds).
New this year - Pre-Registration is REQUIRED!
Registration and prepayment are MANDATORY to participate and secure a space in the programs. Please read the following:
$5 per participant in the program. (Plus museum admission.)

This does not include adults and children not participating in the program. (Non-participants still need to pay admission.)
Additional fees to cover the cost of supplies will apply to certain programs and will be reflected in the preregistration price.
The program fee CANNOT be paid the day of the program.

Registration will CLOSE at 11:59pm the day before the program.
A list will be generated of those who have preregistered to sign in at the start of the program.
This registration fee is just for the program, participants and non-participants will still need to go through the front of the museum to pay for their admission to the museum. This will be in addition to the program fee. Options for entry to the museum include:

Full price
Boonshoft Membership
Museums for All
Reciprocal Membership from another institution
AAA Discount
State Farm Discount
Military Discount
Please arrive ten (10) minutes in advance of your program time.
Please allot time to pay for your museum admission at the front desk.
Programs will start and end at the time they are listed on the registration page. 
Late arrivals can still join a program, but the end time will remain the same as it is stated on the website. 
There are no refunds issued for late arrivals.

If there is space in another program time for the appropriate age/understanding level of the participant, they can join at the discretion of the presenter. 

All participants in the program must have an adult with them. 
You MUST fill out a registration form and pay for each child who will be participating in the program to reserve your spot.
The registration window for each program will start on the date of the prior program. The dates and topics are available to view. 
Theme: Paleontology 
Description: Join the Boonshoft Museum of Discovery on National Fossil Day for our first Homeschool day of the year! We will be exploring Dayton's Dinosaur in depth to learn about how dinosaurs lived, how fossils form, and how paleontologists learn about the distant past.  
Location: Both programs will take place in the Edison/Einstein classrooms in the Education Lobby.  
Theme: Astronomy 
Description: Come visit us for a day of space exploration at Boonshoft! Learn how telescopes work, launch a rocket, and explore the scale of planets and other objects found in our solar system. 
Location: Edison & Einstein Classrooms
Registration is OPEN!
Theme: Matter
Description: Get some laboratory experience with fun chemistry demonstrations and hands-on activities in our matter-themed homeschool program. We will explore solids, liquids, gases and the differences between physical and chemical changes. 
Location: Do Lab
Registration opens December 14th
Theme: Biology 
Description: Come learn about the ins and outs of our animal friends. For our younger audience, you will meet some of the animal ambassadors that call Boonshoft home and learn about their unique adaptations and the habitats where they live. For the older audience we will learn dissection techniques through dissecting a sheep eye.
Meet the Animals (30 minutes) and Dissection (45 minutes)
Location: Science Theater (10:00AM, K-3rd) & Do Lab (1:00PM, 4th-8th)
Other Information: This month the older age group (4th-8th grade understanding) activity, dissection, will incur an additional $3 fee on top of the $5 program fee to cover the dissection specimen and supplies. The dissection program will also be a 45-minute program instead of the typical 30 minutes.
Registration opens February 20th