Our Vision:
To be the leading regional destinations where people engage with global natural history, science, and nature.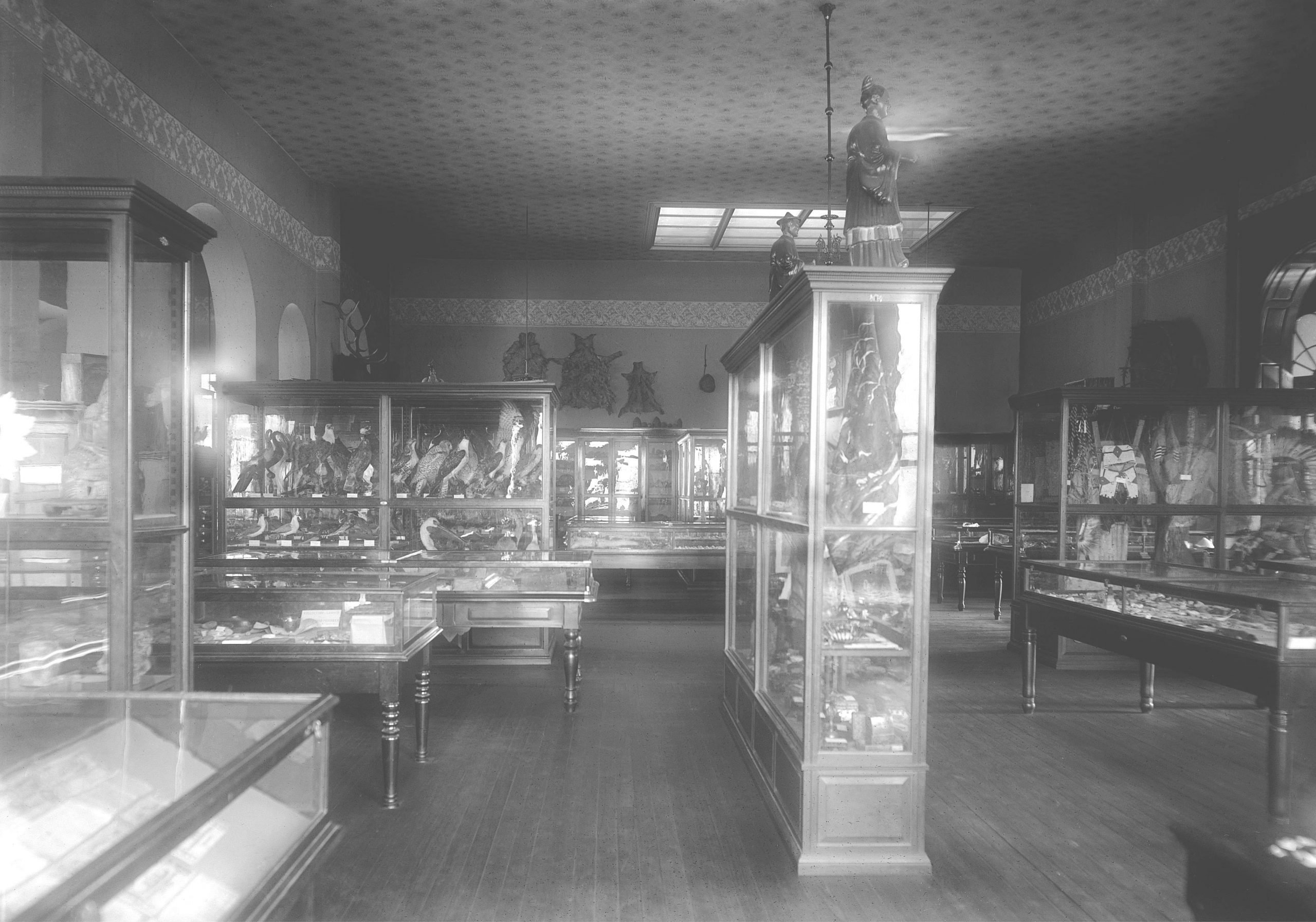 The Dayton Museum of Natural History began in 1893 as a part of the Dayton Public Library and Museum. Over the years, collections gathered by prominent Dayton citizens on their trips around the world were contributed to the museum. Local natural history collections were also contributed. In 1952, a group of citizens organized the Dayton Society of Natural History which took responsibility for the collections and transformed them into the Dayton Museum of Natural History. In 1958, the Museum of Natural History's main building on Ridge Avenue was completed. In 1991, a new planetarium and expanded collection and exhibit space were added. The Society remained committed to the ideal of inspiring children to enthusiastically embrace science as a vital aspect of their lives through exhibits and programs that were both entertaining and educational.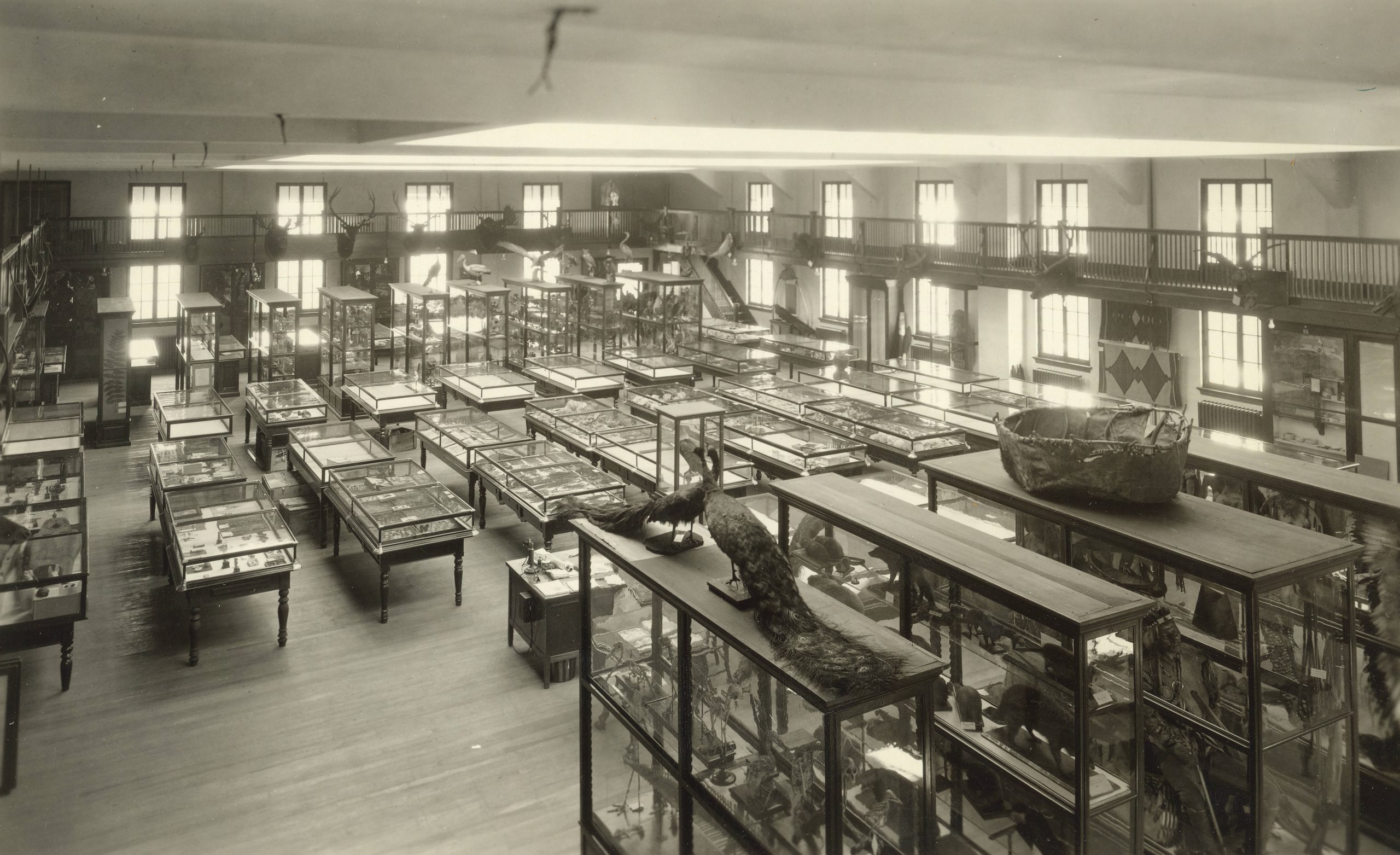 Dayton Public Library and Museum
Meanwhile, in 1993 a group of interested community leaders formed a steering committee to explore the idea of creating the Children's Museum of Dayton. This group believed that a children's museum could reach children ages two through twelve and instill in them a lifelong love of learning as well as an appreciation for the world around them. To this end, the group formed a governing board, launched a mobile outreach program, displayed model exhibits, and began planning for a permanent home in downtown Dayton.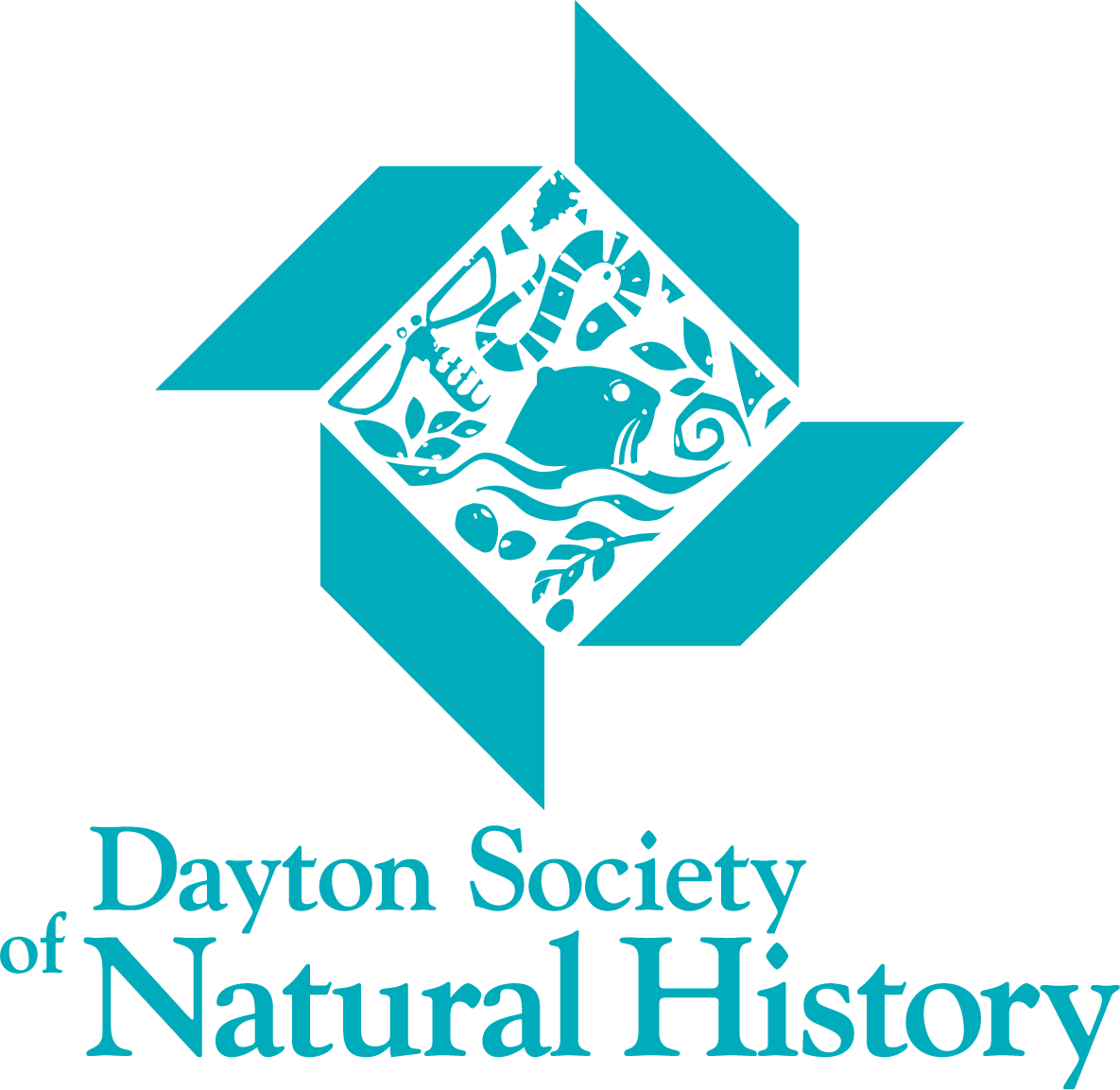 As the Children's Museum movement gained visibility, the similarity between its philosophy and the Museum of Natural History's mission became very clear. In the summer of 1995, the Children's Museum Board and Board of the Dayton Society of Natural History began discussing ways to collaborate. By January, 1996, these talks resulted in an enthusiastic agreement to fully merge boards under the umbrella of the Dayton Society of Natural History *. As a result of the merger, the Dayton Museum of Discovery was born and assumed all public, educational and programming functions previously associated with the Dayton Museum of Natural History.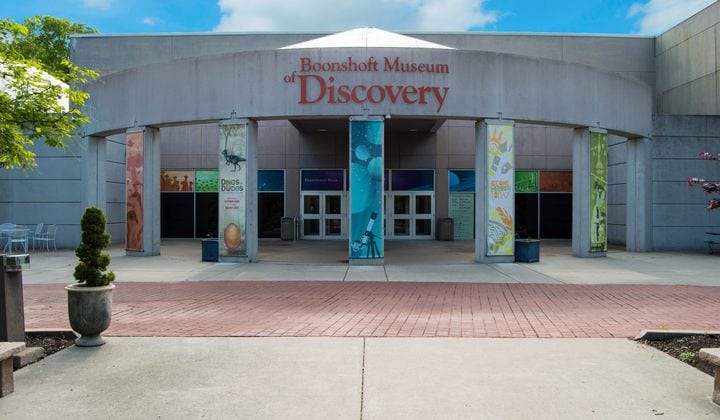 The board commissioned a professionally-developed exhibits master plan that would take into account all of the resources and potential brought to the table by both organizations and by May 1999 Phases I and II of an extensive exhibits master plan had been completed. The name change to the Boonshoft Museum of Discovery occurred in January, 1999 in recognition of Oscar Boonshoft, one of the Museum's most dedicated friends.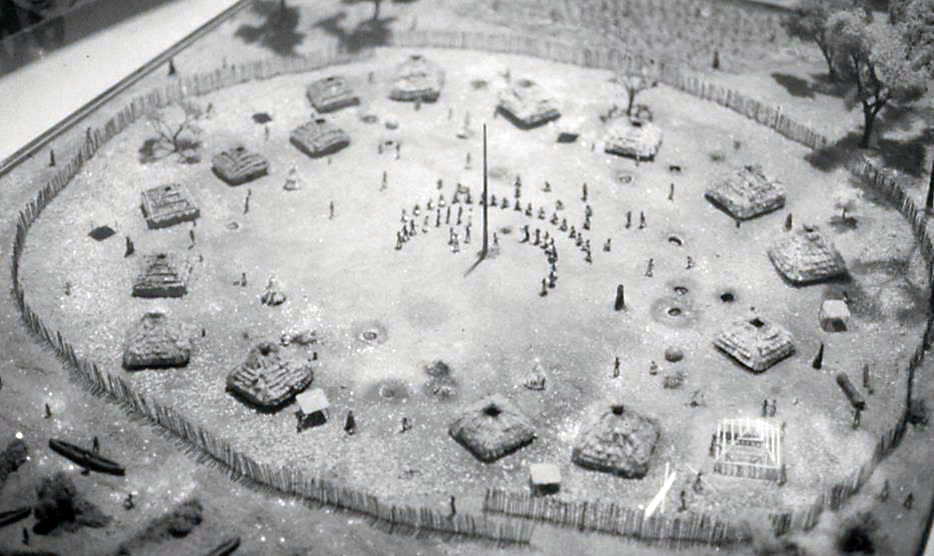 Model reconstruction of what the SunWatch indian village may have looked like.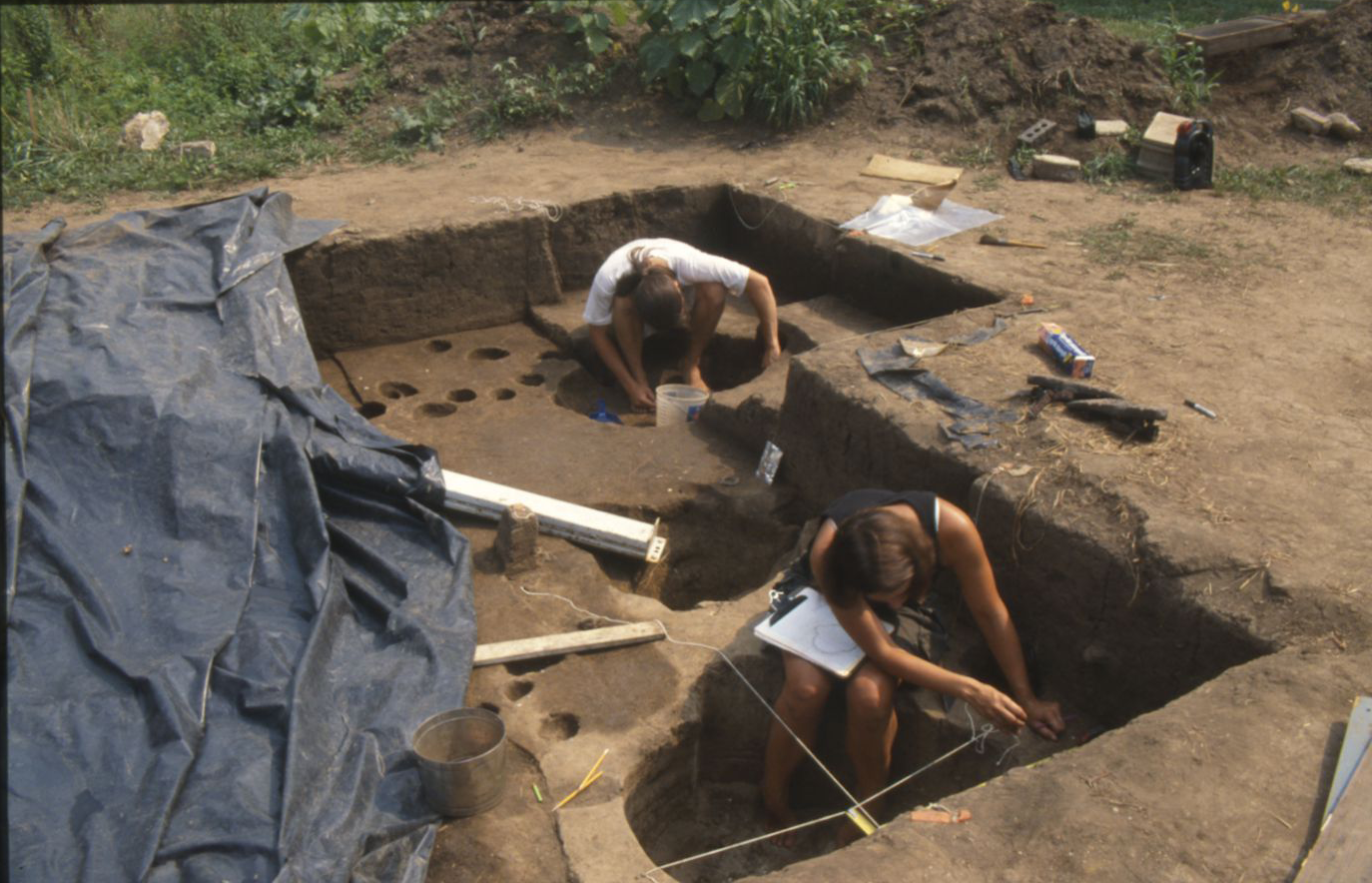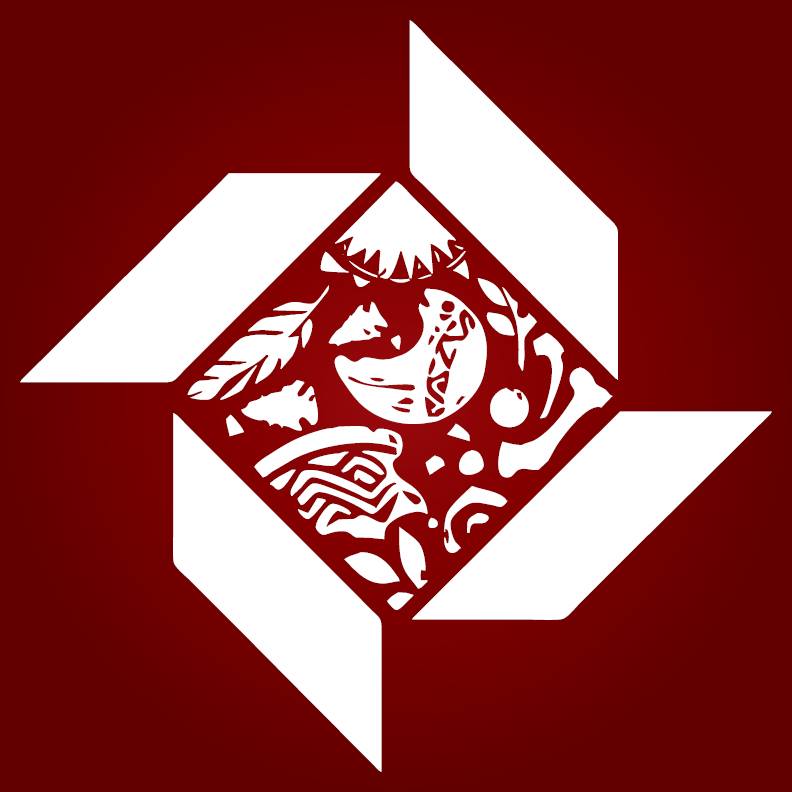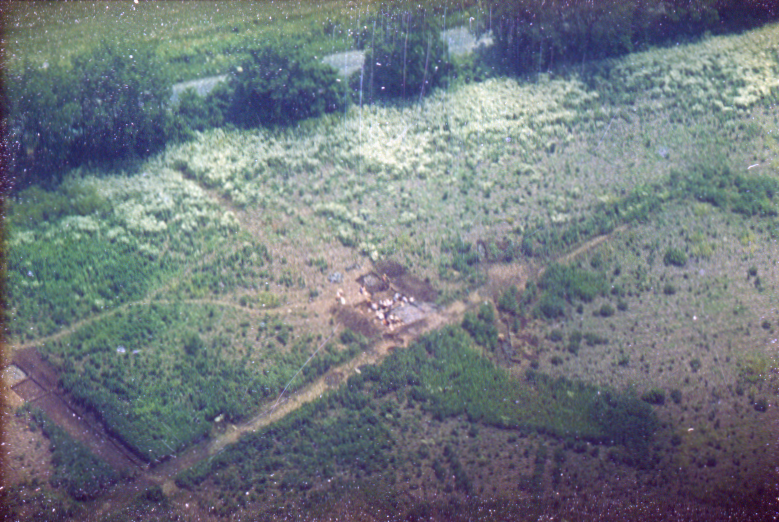 Aerial view of the site in 1973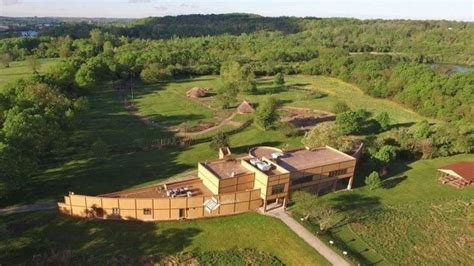 SunWatch Visitor center, museum and education center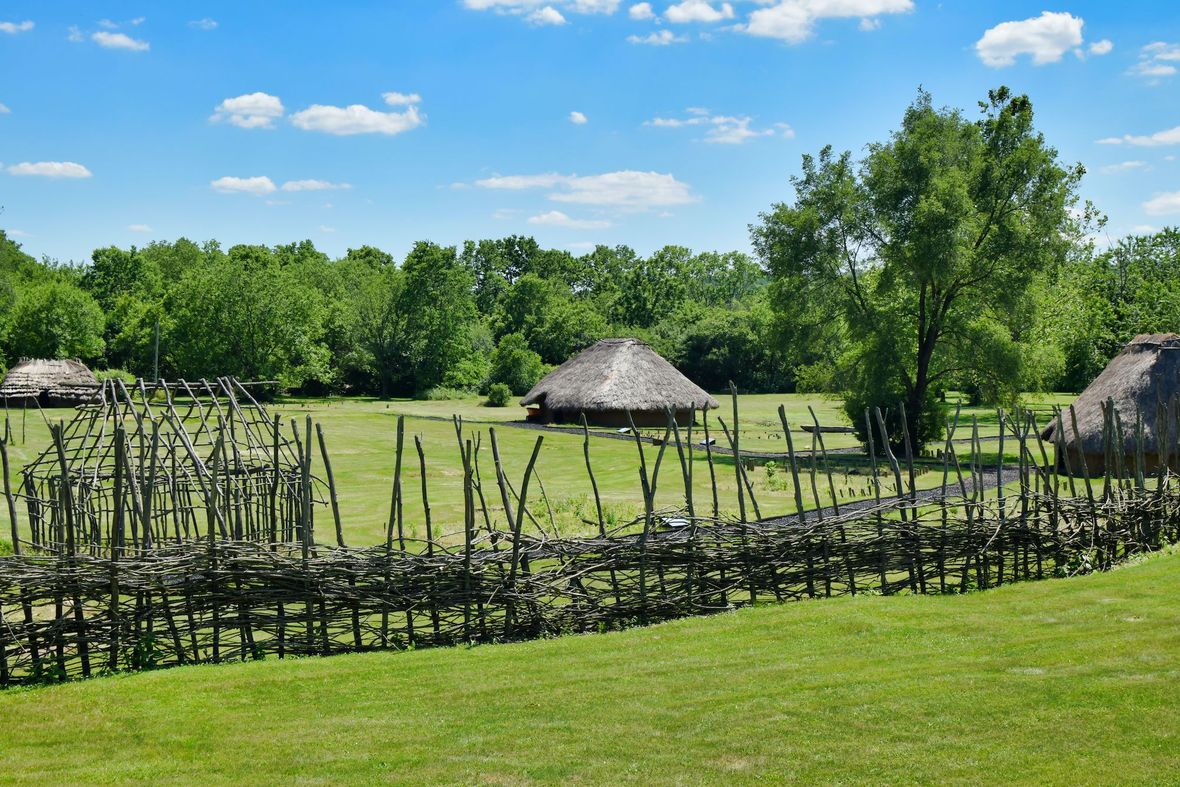 SunWatch Indian Village/Archaeological Park
The Dayton Society of Natural History is the parent organization of the Boonshoft Museum of Discovery and its sister organization, SunWatch Indian Village – a museum of the area's 12th century Fort Ancient Indians.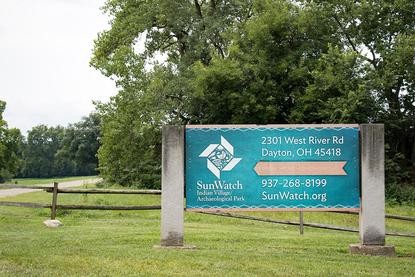 SunWatch, originally named the Incinerator Site, was first excavated and reported on in the 1960s by amateur archaeologists John Allman and Charles Smith. When news came in the early 1970s that the City of Dayton planned to expand a nearby sewage treatment plant onto the property and impact the site, Allman and Smith contacted James Heilman, the Curator of Anthropology at the Dayton Museum of Natural History, in hopes of recovering as much valuable information from the site as possible. In 1971 the Dayton Museum of Natural History (now the Boonshoft Museum of Discovery) began "salvage" excavations at the site with just this goal in mind.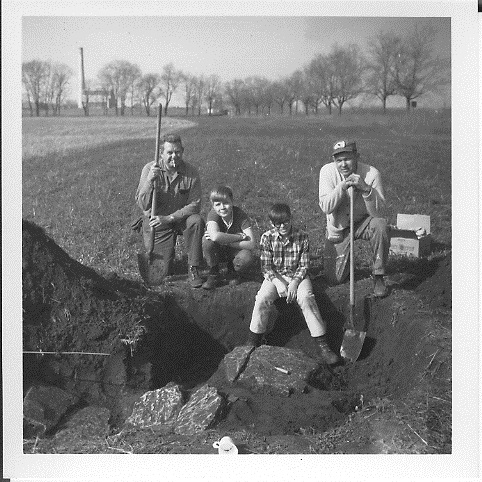 This initial work was designed to recover as much data from the village as possible prior to the proposed destruction of the site to make way for the sewage treatment plant expansion. As excavations continued, a planned, stockaded village which was estimated to have been occupied for about 20 years and included apparent astronomical alignments was revealed. The roughly 3 acre village site contained many well preserved artifacts, including fragile items such as crayfish pincers, fish scales, turkey egg shell fragments, and even uncharred wood remains. The work at the site exposed many students and adult volunteers to archaeology for the first time and gave them an appreciation of the archaeology and history of the region.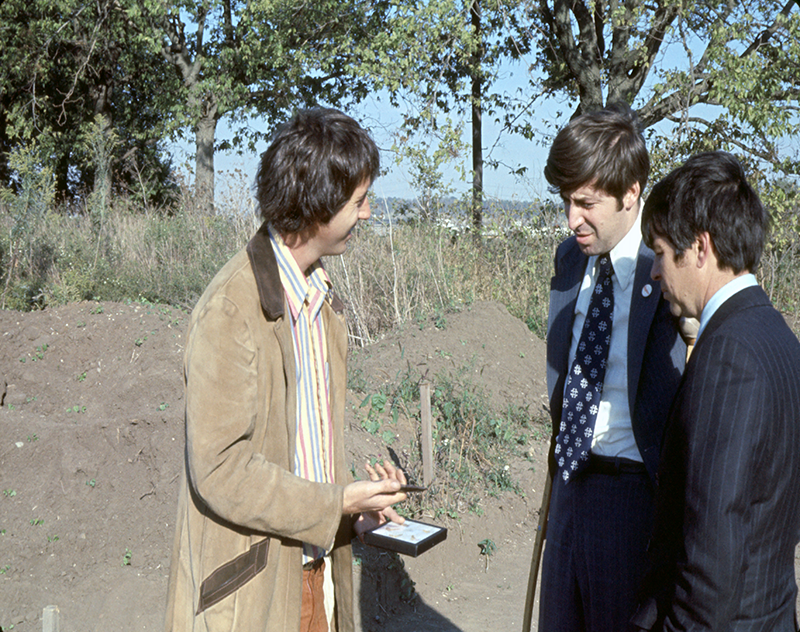 With the cooperation of the City of Dayton the plans for the expansion of the sewage treatment plant were modified, and with the assistance of the city, numerous volunteers, scholars, and supporters the site was saved from destruction. Soon after, planning began to interpret and open the site to the public.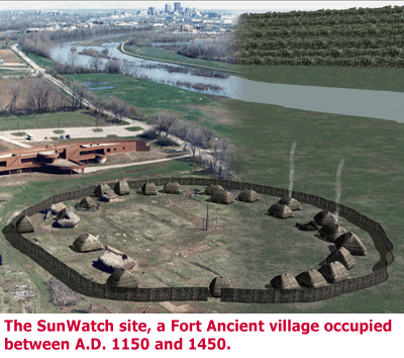 On July 29, 1988, after 17 years of excavation and research by the Dayton Society of Natural History, SunWatch opened to the public. Seasonal excavations continued through 1989. The years of excavation at the site, combined with additional analysis and research, have resulted in a remarkable understanding of the site's original inhabitants. SunWatch currently combines experimental archaeological research, including the reconstruction of the Fort Ancient structures in their original 13th century locations, with an interpretive center that exhibits many of the artifacts that have been recovered from the site. The village reconstruction includes five lath and daub structures with grass thatch roofs, portions of a stockade, and a native garden and prairie with plants typical of the period. Inferred astronomical alignments originate from a complex of posts at the center of the village that have also been replaced. There is also a picnic shelter and picnic tables overlooking the village and are available for visitors to relax.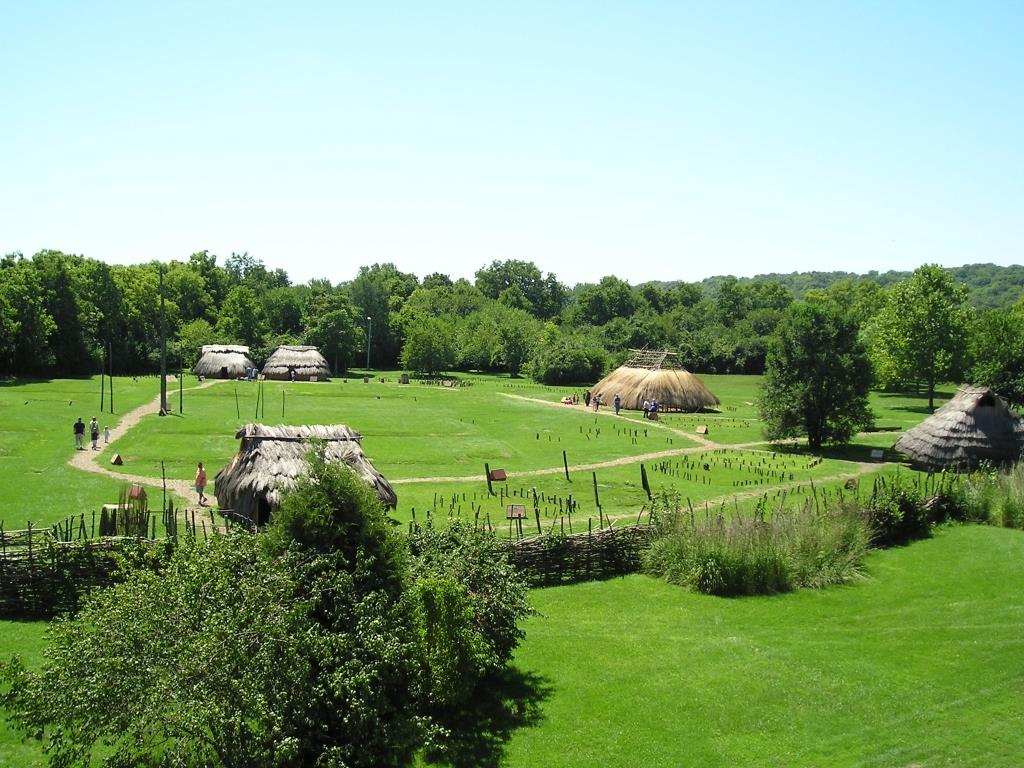 In June of 2006, the Heilman-Kettering Interpretive Center at SunWatch reopened after an extensive renovation added over 6,000 square feet to the facility. The renovation included a new lecture room that can be divided in two and used for lectures, seminars, receptions, traveling exhibits, and other events. A meeting room that overlooks the reconstructed village, a handicap lift to provide access to the new second floor, and additional restrooms and other amenities provide for the comfort and enjoyment of our guests. Because of its archaeological and historical significance, SunWatch was placed on the National Register of Historic Places in 1975 and became a National Historic Landmark in 1990.
Accreditations & Affiliations
The Museum is accredited by the American Alliance of Museums, affiliated with the Association of Children's Museums, and is a member of the Association of Science-Technology Centers. In addition, the Discovery Zoo, located on the second floor of the Museum, is fully accredited by the Association of Zoos and Aquariums.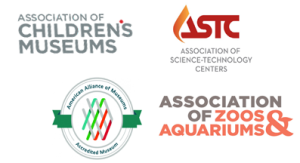 Board of Trustees
The Dayton Society of Natural History's (DSNH) Board of Trustees is led by a distinct and dynamic group of volunteers that promote and support the ongoing programs and overarching educational initiatives of its two entities—the Boonshoft Museum of Discovery and SunWatch IndianVillage/Archaeological Park.
In conjunction with their volunteer leadership, the Board of Trustees is a non-salaried governing group responsible for long-term strategic planning activities of the Society, physical and human assets, its programs and policies, legal operations accountability and ensuring a continuity of leadership and direction over time.
2022 Board of Trustees
| | |
| --- | --- |
| Chair | Terry W. Posey, Jr. |
| Vice Chair | Jason Trimbach |
| Secretary | Carissa Ross |
| Treasurer | Cheryl Ennis |
Brathwaite, Debra A., Ph.D.
Broner, Eloise
Ennis , Cheryl A.
Featherstone, Diana
Goodspeed, Rachel
Hoffbauer, Gregory A
McDonald, Pat
McMurry, Glen
Niehoff, Nick
Posey, Terry W., Jr.
Ross, Carissa
Soin, Yasmeen
Judge Spells, Mia Wortham
Stang, Nora
Stemen, Michael
Stickel, Jeffrey W.
Trimbach, Jason
Trzeciak , Jeffrey
Wirth, Janet M.
PRIVACY NOTICE
This notice discloses the privacy practices for (www.BoonshoftMuseum.org), applies solely to information collected by this website, and includes the following:
What personally identifiable information is collected from you through the website, how it is used and with whom it may be shared.
What choices are available to you regarding the use of your data.
The security procedures in place to protect the misuse of your information.
How you can correct any inaccuracies in the information.
Information Collection, Use, and Sharing
Unless you are completing a purchase or filling out an inquiry form, we do not collect specific information from you as a user on this site.
We are the sole owners of the information collected on this site. We only have access to/collect information that you voluntarily give us via email or other direct contact. We will not sell or rent this information to anyone.
We will use your information to respond to you, regarding the reason you contacted us. We will not share your information with any third party outside of our organization, other than as necessary to fulfill your request.
Once you opt in or become a member (unless you ask us not to!), we may contact you via email in the future to tell you about upcoming programs, events, and exhibitions of interest. We may also contact you about changes to this privacy policy.
Your Access to and Control Over Information
You may opt out of any future contacts at any time by contacting us at marketing@boonshoftmuseum.org or calling 937.275.7431:
See what data we have about you, if any.
Change/correct any data we have about you.
Have us delete any data we have about you.
Express any concerns you have about our use of your data.
Security
We take precautions to protect your information. When you submit sensitive information via the website, your information is protected both online and offline.
Wherever we collect sensitive information (such as credit card data), that information is encrypted and transmitted to us in a secure way. You can verify this by looking for a lock icon in the address bar and looking for "https" at the beginning of the address of the Web page.
While we use encryption to protect sensitive information transmitted online, we also protect your information offline. Only employees who need the information to perform a specific job (for example, billing or customer service) are granted access to personally identifiable information. The computers/servers in which we store personally identifiable information are kept in a secure environment.
Online Payment for Membership and Other Purchases
Online order forms require personal information from you. To purchase a membership, make a donation, buy tickets to a special event, or register for free events (as required), you must provide contact information (like name and shipping address) and financial information (like credit card number, expiration date). This information is used for billing purposes and to complete your registration. If we have trouble processing an order, we will also use this information to contact you.
Social Media
If you share our content through social media, for example by liking us on Facebook, following or tweeting about us on Twitter, or liking a photo in Instagram, those social networks will record that you have done so and may set a cookie for this purpose.
In some cases, where a page on our website includes content from a social network, such as a Twitter feed, or Facebook comments box, those services may set a cookie even where you do not click a button.  As is the case for all cookies, we cannot access those set by social networks, just as those social networks cannot access cookies we set ourselves.
Google Analytics
Our website does use Google Analytics, a web analytics service provided by Google, Inc. ("Google"). The information generated by the cookie about your use of our website (including your IP address) will be transmitted to and stored by Google on servers in the United States. Google will use this information for the purpose of evaluating your use of our website, compiling reports on website activity for website operators and providing other services relating to website activity and internet usage. Google may also transfer this information to third parties where required to do so by law, or where such third parties process the information on Google's behalf. Google will not associate your IP address with any other data held by Google.  Further information about Google's privacy policy may be obtained from http://www.google.com/privacy.html.
Links
This website occasionally contains links to other sites. Please be aware that we are not responsible for the content or privacy practices of such other sites. We encourage our users to be aware when they leave our site and to read the privacy statements of any other site that collects personally identifiable information.
If you feel that we are not abiding by this privacy policy, you should contact us immediately via telephone at 937.275.7431 or marketing@boonshoftmuseum.org.
SunWatch Accreditations & Affiliations
The National Register of Historic Places (NRHP) is a list that recognizes historic places worthy of preservation. It is administered by the National Park Service, a part of the U.S. Department of the Interior. The NRHP was first authorized under the 1966 National Historic Preservation Act, and its mission is to coordinate and support public and private efforts to identify, evaluate, and protect cultural resources. There are 80,000 listings on the NRHP in the United States, including 325 from the state of Ohio. SunWatch was listed on the National Register of Historic Places in 1975.
National Historic Landmark (NHL) status was granted to SunWatch Indian Village/Archaeological Park in 1990. NHL status indicates that a historic or prehistoric site possesses exceptional value as commemorating or illustrating the history of the United States. NHL was formed under the Historic Sites Act in 1935. Harold Ickes, Secretary of the Interior, was seeking a broad legal foundation for a national program of preservation and rehabilitation of historic sites, and wanted a program that would work through the National Park Service to make a survey of historical and archaeological sites, buildings and objects. NHL status works to promote the advancement of historic preservation, patriotic instruction, and tourism promotion. To visit SunWatch's NHL webpage, click here. For more information, please call 937-268-8199.
Associate Board
The Boonshoft Museum of Discovery's Associate Board, is a dedicated talented group of community volunteers who serve as advocates and ambassadors to further the Museum's overall mission and enhance its public image. The Associate Board assists with the coordination of the Museum's special events and fundraisers, including the annual Boonshoft Bash and Eureka!, and has established an overarching focus to showcase the Boonshoft Museum as the unique educational venue that it is.
Thank you to all of our past and current Associate Board members for your hard work and dedication!
2021-2022 Associate Board
President
Erin Davis
President-Elect
Ashley Cable
Treasurer 
Lindsay Maxam
Secretary 
Shaun & Alison Westfall
Block Party Chair
Scott & Ashley Cable

Block Party
Co-Chair

Maneesh & Kamna Gupta
Bash Chair
Graham & Ann Bailey
Bash Co-Chair
Bri Trappe & Will Hayslett
Class        Member
2022          Graham & Ann Bailey
2022          Scott Cable & Ashley Cable
2022          Neil Cook & Erin Davis
2022          Sean & Elizabeth McCormick
2022          Shaun & Alison Westfall
2024          Maneesh & Kamna Gupta
2024          Nick & Lindsay Maxam
2024          Christopher Marshall & Laura Cano
2024          Bri Trappe & Will Hayslett
Community Involvement
Community Partnerships
The Museum is fortunate to have earned the respect of thousands from outside of the institutional walls. This is evidenced by the partnerships that have been fostered with other leading institutions, including the University of Dayton, Wright State University, and nearly every major museum in the region. Relationships built on mutual respect with the Dayton Art Institute, Dayton History, the National Museum of the US Air Force and the Dayton Metro Public Library, among many others, further point to the importance of the Museum's mission, but maybe more significantly to the reputation of the Museum's professionals. To learn more about developing a partnership email externalrelations@BoonshoftMuseum.org.
Visit The National Museum of the US Air Force Website
Volunteer
Volunteerism is the backbone of the Boonshoft Museum of Discovery. Our volunteers do everything from working with our Discovery Zoo crew to assisting with public programming. To lear more about becoming a volunteer, pleaes click here or email volunteer@boonshoftmuseum.org.
Community Giving Guidelines
Each year, we contribute to hundreds of local organizations to help with their fundraising initiatives, or to offer free or reduced admissions to qualifying individuals. For instructions on how to request a donation, please refer to our community giving guidelines.