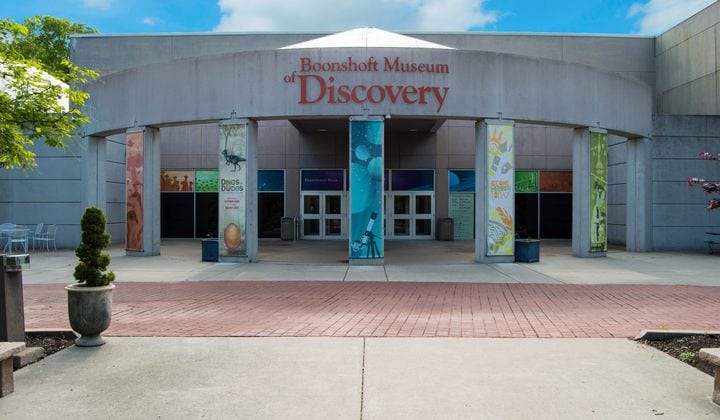 General Admission
Adult (ages 13-59)
$15.00
Child (ages 3-12)
$12.00
Senior (ages 60+)
$13.00
All DSNH Members and Children 2 & Under
FREE
*Members must present photo ID at each check-in
We accept cash, checks and travelers' checks (with proper ID), Visa, MasterCard, Discover, and American Express. Please note that there is not currently an ATM available at the Museum.
Click here to reserve your admissions tickets!
Please note: All discounted tickets must be purchased in person.
Frequently Asked Questions
What is reciprocity?
Because The Dayton Society of Natural History is affiliated with the Association of Science and Technology Centers (ASTC), Association of Children's Museums (ACM) and the Association of Zoos & Aquariums (AZA), other accredited organizations offer our members special admission opportunities.
WHO: Reciprocal benefits are offered to individuals and families that retain a membership; benefits may vary. People who have Standard and Premium Level Memberships enjoy special benefits at science/technology centers and zoos & aquariums.
*NOTE: See below for special reciprocity agreements with other Ohio institutions.
WHAT: Reciprocity is a mutual exchange of privileges between two institutions, such as one science and technology center or zoo offering reduced admission to members of another science and technology center or zoo.
WHEN: Reciprocity is exercised year-round, but when you are visiting a museum, science/technology center, or zoo/aquarium please observe their daily schedule and be sure to call ahead to confirm their reciprocity commitment to your specific institution's membership, as institutions can opt out of the program at any time throughout the year.
WHERE: With over 300 museums, zoos, and other attractions across the country, we encourage traveling families to visit these amazing facilities. For your convenience  we have provided lists of institutions that offer reciprocal benefits at science and technology centers (ASTC) zoos & aquariums (AZA) and participating children's museums (ACM). Again, please review the lists below to verify that the institution you plan on visiting participates in reciprocal program.
WHY: The reciprocal benefits offered with a DSNH Membership are a valuable benefit, to not only our guests, but also other instituions that so graciously host DSNH Members. These institutions take pride in sharing their educational resources, local history, culture, and entertaining attractions with our Members, as do we when we host guests using reciprocal memberships.
HOW: Simply purchase a membership! Visit our Membership page to find the membership level that best suits you and your family, or simply click the button below to start enjoying all the entertaining, educational attractions the Dayton Society of Natural History has to offer.
Please note that each institution sets its own policy on this agreement; call the institution prior to visiting to ensure that reciprocal agreements are in effect.
Can I buy a gift card?
Yes! You can purchase a gift card here and use it toward admission, gift shop purchases, or a membership.
Gift Cards cannot be redeemed in the Eco Eatery. Other exclusions apply. Follow this link for more information.
Should I expect any additional costs?
Parking is free at both of our sites, and all exhibits, planetarium shows, and most public programs are included with general admission.
At times, certain educational programs may require pre-registration or an additional, nominal charge. This will be clearly announced prior to the day of the respective program. Public Programs run daily! Check the Calendar for the daily schedule.
Can I apply my admission to a membership?
Visitors have up to 14 days to apply their regular admission toward an annual membership!
Must submit the original receipt and purchase the membership in person; some restrictions apply. Does not apply to group admission.
See our Guest Services staff for more details during your visit.
Special Reciprocity Agreements in Ohio
While both the Cincinnati Museum Center and COSI are within the 90-mile radius, Boonshoft Museum members currently receive 50% off regular admission to both of these locations. The Boonshoft Museum extends the same 50% discount to CMC and COSI members.
The Boonshoft Museum matches the 50% discount offered to our members by the Cincinnati Zoo.
Please be aware that reciprocal benefits for your DSNH/Boonshoft Museum membership may have additional restrictions if you do not live in the Dayton, OH area.  In particular, please note that the Great Lakes Science Center and the Cleveland Museum of Natural History will not accept reciprocity with Boonshoft Museum of Discovery members who reside in the Cleveland area.
Accessibility & Other Amenities
Q. How accessible is the Museum?
A. There is designated handicapped parking space at the top of the circular drive, which leads directly to the Museum entrance. A ramp leads from the parking lot to the front door. There are elevators at both ends of the building to reach the second floor. Wheelchairs are also available on a first come basis, free of charge, for guests' use while visiting the Museum.
Learn more about accessibility at the Boonshoft Museum, and read more about our Service Animal Guidelines.
Q. Can I bring my my own food?
A. Guests may bring their own food into the Museum, and can eat in the ECO-EATERY, which offers a selection of food for purchase, located on the second floor, provided they store it in the Coat Room or their vehicles. Please note that the coat room is self-serve, and Museum personnel cannot hold, store or monitor coolers or bags. Small lockers are available for rent.
For the enjoyment of all guests, families/groups may not bring large family-style meals or full-size cakes to the Museum. No parties or groups larger than 10 may convene in The Loft or the Eco Eatery; tables cannot be reserved or moved. Absolutely no decorations are permitted. If you wish to book a birthday celebration or rental that includes private space for your group, we have lots of options! Please click here to learn more.
Outdoor picnic tables are available, weather permitting, on a first come basis.
Questions about Museum policies? We're happy to answer your questions! Call 937-275-7431 to speak with a Guest Services team member.
Q. Is there a coat room?
A. Yes. There is a coat room at the entrance to the Museum. However, the Museum is not responsible for lost or stolen items. Small self-serve lockers are also available for rent. ($1 per vend and accept quarters only)
Q. Are strollers or wheelchairs available at the Museum?
A. Yes, there are a limited number of strollers and wheelchairs available on a first come, first serve basis. While there is no charge, guests are required to leave their ID on hold with Guest Services for the duration of the visit in exchange for the use of strollers.
Q. Can I breastfeed my baby at the Museum?
A. Of course! For those who prefer privacy, the Museum offers a Quiet Room for families on the first floor. There are also numerous benches and seating arranged throughout the Museum for your convenience.
Q. Is the museum safe for children with sensory issues?
A. We strive to make your visit as smooth and enjoyable as possible, and that sentiment extends to all guests. Please read more about our sensory accommodations and the tools we offer on our Accessibility page.
Make the Most of Your Visit
Q. How long should we plan on visiting?
A. Older children could easily spend 4-5 hours exploring all of the Museum's exhibits. Some families spend the entire day. Younger children typically reach saturation after 1.5 - 2 hours. Effective planning can help keep a child's attention. Take advantage of Caryl D. Philips Space Theater Shows, animal talks, and science presentations, as well as snack breaks in the Eco-Eatery to help pace your day.
Q. When is the Museum the least crowded?
A. To avoid crowds, the best time to visit the Museum is between 9:00-10:00 a.m. during the week. However, most featured/traveling exhibits showing in special exhibition do not open for the public until 11:00 a.m.  
Q. Can I bring a camera or video camera to the Museum?
A. Yes. We encourage guests to capture the special moments they spend with their children at the Museum. Additionally, disposable cameras are available in the Discoveries Gift Shop for a reasonable fee.
Please note that visitors must limit their photography to the children and guests in their immediate group.  The Museum reserves the right to confiscate any photo or videos that violate this policy.
Q. I am bringing very young children for our visit. Is there anything I should be aware of?
A. While the Museum offers interactive experiences for visitors of any age, families with young explorers may need a little advance planning to enjoy a few of our exhibits and programs! For example:  
Young children and others who are startled by loud noises or darkened rooms may choose to avoid Science Theater demonstrations, as controlled explosions and loud noises are part of some shows, and the lights are often lowered for effect.
Like the Science Theater, our Planetarium is also dark, and some shows may have loud noises. In addition, there is no re-entry to the theater once the doors close, so we encourage families to stay together if a member of your group needs to leave a show.
The Climbing Tower & Slide that is located in Science Central spans several floors. This busy, high-traffic area can be accessed independently from both the first and second floors, so it is recommended that grown-ups either: 1) accompany children up the tower and down the slide, or 2) bring more than one adult in order to supervise your child's play from both levels.
Q. Are there activities outside the Museum?
A. The Museum grounds are a Living Museum, which includes a walking trail through the Werthner Woods. Common plants are marked and visitors will spot many varieties of birds, as well as woodland animals. Across from the Museum is DeWeese Parkway, with walking and biking trails that meander along the Stillwater River. Nearby is Wegerzyn Garden Center, which features an interactive children's area.
Safety Questions
Q. Can I bring a camera or video camera to the Museum?
A. Yes. We encourage guests to capture the special moments they spend with their children at the Museum. 
Please note that visitors must limit their photography to the children and guests in their immediate group.  The Museum reserves the right to confiscate any photo or videos that violate this policy.
Q. I am a Boonshoft Museum member, but cannot find my membership card.  Can I still visit the Museum?
A. Of course! Our Guest Services staff will be happy to verify your membership standing when you check in at the front desk.  As always, you must present a valid photo I.D. Reprints will be available to Members for a $5.00 charge.
Q. What is the Museum's policy on roller skates, blades and/or Wheelies?
A. The Museum does not permit any rolling shoes on the premises. If a visitor engages their wheels, they will be asked to remove the wheels from their shoes for the duration of their visit.
Q. Is it permissible to drop off young teens to explore the Museum on their own?
A. In order to provide a safe and fun learning environment for all visitors, the Museum asks that children under the age of 16 be accompanied by an adult (18 years+) at all times.  The Museum reserves the right to notify appropriate authorities if we believe children are not adequately supervised.
Holiday Hours
Code of Conduct
Group Rates & Transportation
Holiday Hours
The Boonshoft Museum of Discovery and SunWatch Indian Village are always closed for Easter, Thanksgiving, Christmas Eve, Christmas Day, New Year's Eve, and New Year's Day.
We also close for our annual fundraising event, as well as occasional training days and other special events.
Code of Conduct
Group Rates & Transportation