Total Solar Eclipse | April 8, 2024
The Boonshoft Museum and SunWatch Village are gearing up for the Total Solar Eclipse on April 8, 2024. Dayton is in the path of totality and will be plunged into darkness for 2 minutes and 43 seconds beginning at 3:09p. A once in a lifetime event! 
Boonshoft Musem will be hosting lead-up events as well as having on-site activities the day of the eclipse. 
SunWatch Village will host an exclusive all-day ticketed event! Register below!
Darkness is coming…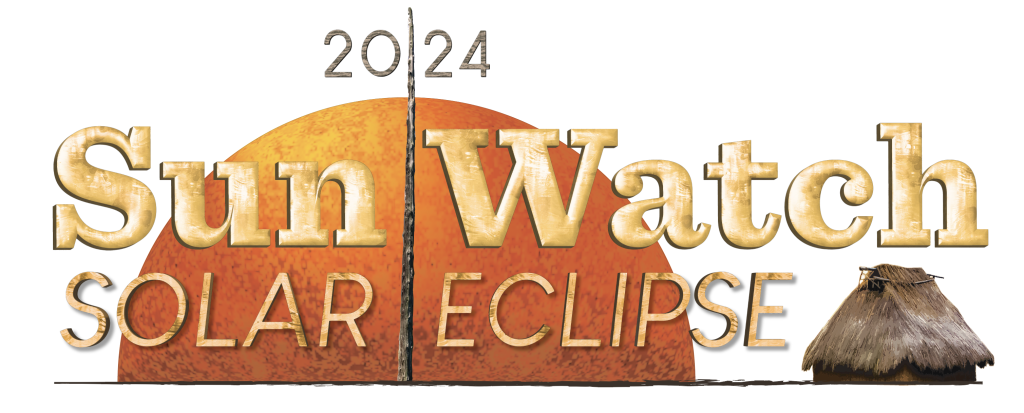 Join us for this exclusive all-day eclipse event!
Come watch the Sun at Sunwatch!
On April 8, 2024, Dayton will be in the path of totality during the next Solar Eclipse to cross North America. And what better way to experience this truly incredible event than at one of Dayton's most unique landmarks?!
A limited number of tickets are now on sale for a very special, once-in-a-lifetime experience.
This exclusive all day affair begins at 9:00a and runs until 5:00p. We will have educational programming throughout the day and the site will only be open to those who have a ticket.
Tickets are $500 per person and include – parking, astronomy presentations, eclipse glasses, souvenir t-shirt, SunWatch tours and presentations, food, and alcoholic and non-alcoholic beverages.
All proceeds will go directly to SunWatch in support of our mission.
The eclipse will begin at 1:53p with totality happening at 3:10p and lasting for 2 minutes, 43 seconds.
Need a place to stay? Limited camping or RV spaces are also available for the night of April 7. RV spaces are an additional $150 and do not include any services. Camp spaces are $100 and do not have services other than Port-o-Lets.
*Please contact thoffman@boonshoftmuseum.org if you're interested in camping. 
Details:
Reservations are open now. These tickets are very limited and no refunds will be given for any reason including weather or illness.
If camping or bringing an RV, you must enter the site between 5:00 and 8:00pm. No food or beverages will be available in the evening except what you bring. You will only have access to portable potties so plan accordingly.
The site will open for all ticket holders at 9:00am on April 8 and close at 5:00pm. All Camp spaces and RVs must be cleaned up and out of the gate by 6:00pm on April 8.
Schedule of events:
9:00 – Site opens, Light breakfast, snacks, drinks available and included with ticket
10:00 – SunWatch site tour with a Curator
11:00 – Astronomy presentation with our astronomer
11:30 to 1:00 – Lunch Buffet
12:00 –Bars Open
1:00 – Astronomy presentation, begin watching Sun changes
4:00 – bars close, afternoon snack
5:00 – site closes